A year ago, the US Census established that one-in-three American workers are Millennials – that is adults from 18 to 34 in the year 2015. They overtook Generation X and Baby Boomers, becoming the largest group in the American workforce.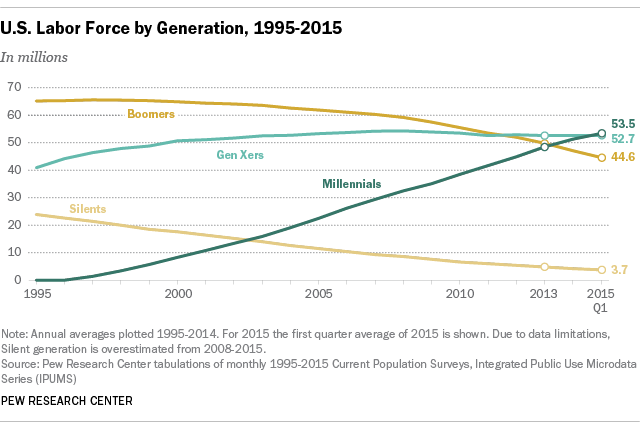 Millennials came of age with unlimited access to information and a strong tendency towards self-directed learning, mainly leveraging web content. Rather than the local library, they'll check a number of web sites, blog posts and videos when they want to learn about something. Besides school and further education, this approach also applies to learning on the job, where a transition is happening and training is increasingly provided using new types of learning tools that better resonate with the millennial approach to education.
Millennials in employment are interested in information that is relevant to them. To capture the attention of these exacting learners, trainers need to create new learning and development environments. Indeed, engaging millennials requires learning and development environments to be employee-driven and content user-generated. To make this happen, companies and trainers need to get a real sense of what makes millennials tick.
Training Industry provides an interesting analysis for companies that want to give employees training and development that is meaningful and effective: here's what they suggest are important factors to take into account:
Knowledge Was Power
For millennials, transparency is a prerequisite for feeling motivated to learn and develop their talents. The Industrial Age management model was to hoard and leverage knowledge in order to exert power over employees. Conversely, millennials today tend to respond well to the freedom of information and knowledge. Transparency paired with access creates the "always-on" learning process that they need.
By being more transparent about the status, goals and vision of your organization (both in the long and short term), your employees will become more engaged, and therefore feel more motivated to both learn and teach each other on a consistent basis.
Don't Ban The Personal Brand
A pillar of millennial culture is life-documentation via social media. Work life becomes a huge part of their digital persona. They often consider their job role, company's positioning and corporate culture as a source of pride. Millennials inherently want to advocate for your business online, and when acting on behalf of your brand out in the "digital field," they will gain valuable experience in areas like customer service, sales and marketing.
By incorporating your employees' personal brands as a part of your daily workflow, you will facilitate more regular employee development, and personal brand building can then turn into performance gains.
They Surf the Groundswell
For millennials, learning doesn't come from the top down, it comes from the bottom up. They trust group-verified information and popular opinion (Yelp, TripAdvisor, social media), before the opinions of power structures that they view as isolated and arbitrary. Employee contributions to your learning curriculum (an employee-driven learning economy) leads to better adoption, faster development, greater colleague support and better team performance. Learning for millennials is more effective when both the content and experiences are user-generated. As a manager, millennials primarily want you to help them help each other.
Millennials are more receptive to subject matter and learning content that is being proposed by their peers rather than management. This is because they can identify with and relate to the challenges that their co-workers face on a daily basis in a tangible way.
Teams that are constantly learning and developing their talents will thrive in diverse and always-evolving environments. Training, educating and developing employees on subject matters such as diversity and inclusion, disabilities compliance, sales and customer service development, corporate culture, veterans in the workplace and leadership development is becoming increasingly important to not only enterprise corporations, but also to start-ups and small businesses.
Furthermore, at all levels of business, attracting, retaining and developing top talent is one of the biggest challenges that organizations face today. Ultimately, what management teams just might find is that implementing a learning and talent development initiative, designed by millennials, for millennials, can be a benefit to both their company culture and bottom line.
The digital native generation use technology as their principal means of accessing the resources they need to move through the world every day. Whether this is to complete training courses or to carry our any other activity they are engaging in. In professional education and development, content needs to be relevant to users and fruition must be ubiquitous, on the fly."
In parallel, according to The State of Workplace Productivity Report from talent management app provider Cornerstone OnDemand in collaboration with global insights firm Kelton, 41 percent of Millennials feel they suffer from information overload, compared to only 31 percent of older generations. That is perhaps the natural consequence of living immersed in a constant flow of content.
The natural way to fix information overload is the speech interface. Providing ubiquitous, user-generated learning and development resources delivered instantly via superior quality, lifelike text to speech software such as Ivona Text to Speech Voices is the choice solution for a millennial user demographic.
IVONA is one of the leading innovators in this field, delivering proven TTS solutions, with 51 unique text-to-speech voices in 22 major languages. IVONA Text to Speech is easy to implement, versatile, and designed to work with the most popular devices on the market. The perfect way to engage millennial users around the world.
ReadSpeaker is IVONA's partner providing text-to-speech licenses across a wide range of applications in the accessibility market.